SORTIE DE FIN D'ANNEE AUX SALINS DE GIRAUD LE SAMEDI 26 JUIN
What a beautiful day… like the song 😉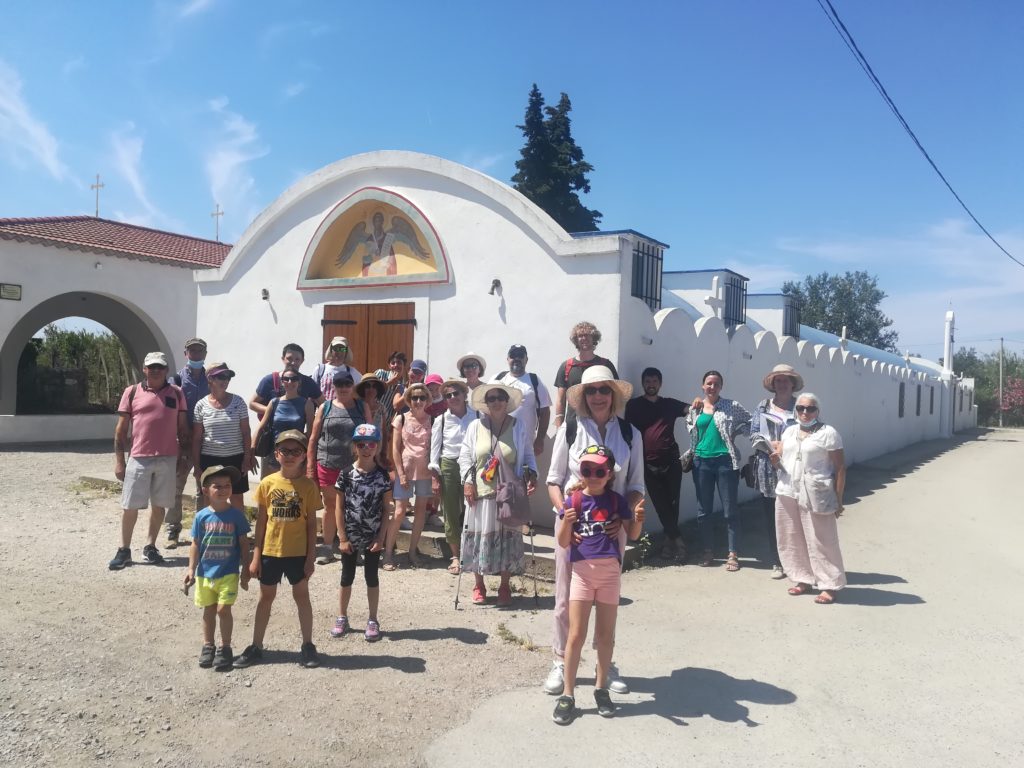 ---
BOTANICAL WALK in BIBEMUS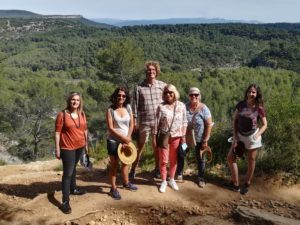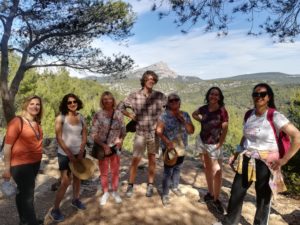 Thank you Manon (and Kurt for your support ) for leading last Saturday botanical walk!
We learnt a lot about Mediterraneean plants such as Aleppo pines, Quercus, Asparagus… and how they can manage with potential fires…
---
TREASURE HUNT IN VENELLES : FRIDAY, MAY 7th and WEDNESDAY, MAY 12th
---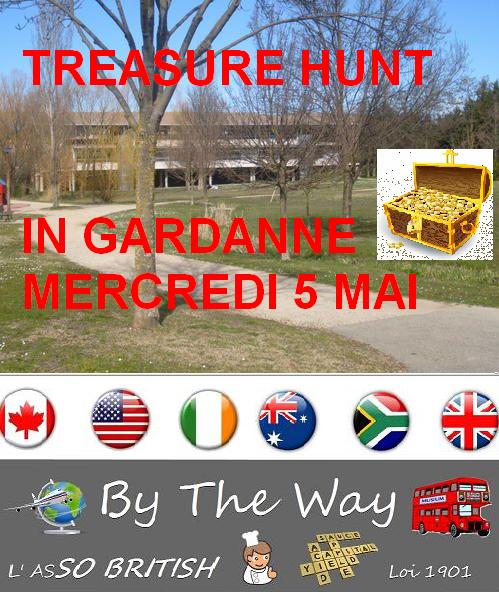 ---
2021-05-13 : TODAY IS A DAY-OFF !
NO CLASSES AT ALL
Ascension Day

is traditionally celebrated the 40th day after Easter Sunday, that commemorates Jesus Christ's ascension into heaven according to Christian belief. … The Ascension is meaningful to Christians as it signifies the end of his work on Earth and allowed him to prepare a place for followers in heaven.
---
SPRING CONTESTS
Pour obtenir votre/vos récompense(s),
renvoyez-nous vos réponses aux défis/concours de ces vacances de Printemps avant le 26/04:
cliquez ici
Merci au Conseil Départemental 13 pour sa jolie dotation (de superbes tee-shirts, casquettes, tabliers de cuisine, sacs à dos, etc.) qui nous permettront de récompenser tous les participants de ces concours.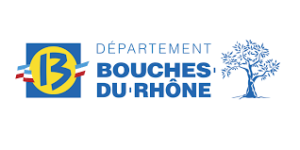 ---
2021-03-17 : Venelles history
Have you ever been to the windmill, Maurice Plantier school, Felix Chabaud vault and so on? By the way, did you know this magnificient sculptor made the statue of agriculture at the fountain of the Rotonde in Aix-en-Provence?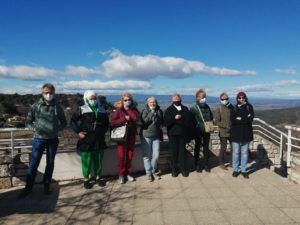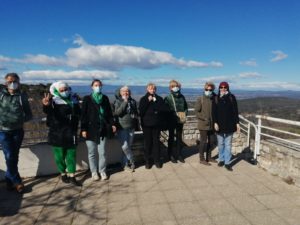 ---
2021-02-27 : A wet walk at « La plaine de Fos » in Gardanne
The tour at « la plaine de Fos » is a nice and easy short walk that you should discover if you don't already know it but we weren't very lucky with the weather this afternoon to enjoy the beautiful spots on the Sainte Victoire
Anyway, it was great to meet outside and to speak with Aisling
again!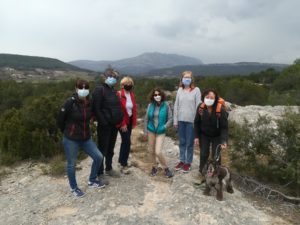 2021-02-03 : A friendly afternoon in Venelles

---
2021-02-02 : A lovely walk, yesterday in Gardanne, towards Gueydan wall
---
2021-01-29 : A nice walk last Friday from « La Croix de Pierre » in Venelles.
We met some bikers and a black wild pig that was not finally wild at all ;-))
---
2021-01-28 : A lovely walk in Venelles last Thursday.
We learnt some jokes in English and French and decided to harvest some olives
---
2021-01-26 : A champions team today in Parc de la Torse
Thank you Madeleine for your delicious « galette », it was the best I have ever eaten !!!
---
2021-01-18 : This week we started the first « 
talk and walk » adults classes outdoors

!
How pleasant it was to meet again (it's different from the usual Zoom classes…)
---
ADVENT CALENDAR
Each day you can try to answer a new question or solve a new challenge in English.  Please, send us your results before the 1st of January and a photo of your « answers calendar » and you will get a reward 😉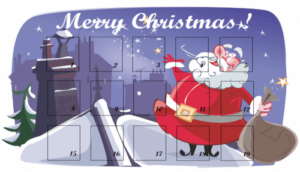 ---
CALENDRIER DE L'AVENT
Chaque jour, vous pouvez essayer de répondre à une nouvelle question ou résoudre un nouveau défi en anglais. Envoyez-nous vos résultats avant le 1er Janvier et une photo de votre « calendrier de réponses » et vous serez récompensé.
---
COOKING CONTESTS
Each participant can share his/her best recipe (written in English of course) with a photo if possible. Everyone can make the recipes at home and vote for the recipe they prefered before the 1st of January.
https://www.facebook.com/media/set?vanity=AssoByTheWay&set=a.2955882551307817
For kids and teens : make the most beautiful and appetizing pizza at home, send us a photo with all the ingredients you used before the 1st of January and vote for the pizza that you like best!!!
We're waiting for your photos!!!
Each winner of the 2 categories will be rewarded !
ALL THE RESULTS AFTER THE BREAK ON JANUARY THE 04TH.
---
CONCOURS DE CUISINE
Chaque participant peut partager sa recette préférée (écrite en anglais bien entendu) avec une photo si possible. Tout le monde peut tester les recettes à la maison et voter pour sa recette préférée.

Pour les enfants et les ados : réalisez la plus belle et appétissante pizza chez vous, envoyez-nous une photo avec la liste de tous les ingrédients en anglais que vous avez utilisés et votez pour la pizza que vous préférez.
Il y aura une récompense pour chacun des gagnants des 2 catégories.
RESULTATS A LA RENTREE LE 4 JANVIER
---
WHAT ARE YOUR CHRISTMAS TRADITIONS ?
---
MERCI A TOUS POUR VOTRE VENUE ET VOTRE AIDE LORS DES FORUMS DE GARDANNE ET ASSOGORA CE WEEK-END!
Merci en particulier à Sylvain, Nicole, Dominique, Madeleine, Jean-Yves, Kelsey, Aisling, Stewart et Kurt : une équipe de choc pour répondre à vos questions!
---
QUIZZ and ANSWERS IN ENGLISH :
1. What is London's most famous bell ? Big Ben
2. How many stars does the American flag have? 50
3. Who is the patron saint of Ireland? Saint Patrick
4. What leaf is on the Canadian flag? A maple leaf
5. What is the capital city of Australia ? Canberra
6. What nickname is used for people from New Zealand ? kiwis
7. What does « The Beatles » band name mean? rythme + scarabées
En août 1960 , ils adoptent définitivement le mot-valise « Beatles », formé à partir de beat (« rythme ») et beetles (« scarabées »), avant d'honorer leur premier contrat dans un club de Hambourg.
8. How many people (approximatively) speak English in the world :
5 Million – 500 Million or 2 Billion ? almost 2 Billion!
---
Les gagnants de l'Assogora d'Aix en Provence sont :
---
Les gagnants du Quizz du forum de Gardanne sont :
Vous serez contactés prochainement pour recevoir votre récompense
---
SEPTEMBER 28TH, French evening to welcome English from Bath!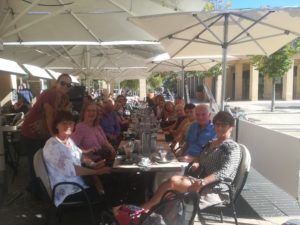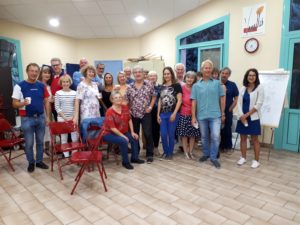 A wonderful evening and meeting between English and French People. Thank you for coming and for your good mood !
---
SATURDAY, JUNE 29th


END OF THE YEAR PARTY
at CAP, 8 chemin du four 13100 Aix-en-Provence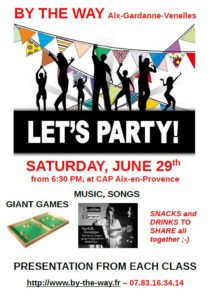 Musicians, songs, giant games, GROUP PRESENTATIONS, 
drinks, snacks and meals to share!
You are very  welcome to join us and meet our teachers, group leaders, volunteers and members 😉
---
Saturday, June 1st 
« A guided tour in English at Chateau LA COSTE »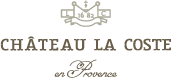 Château La Coste is a vineyard where Wine, Art & Architecture live in harmony. Artists and architects were invited to visit the Domain and discover the beauty of Provence. In turn, they were encouraged to choose a place in the landscape that spoke directly to them and were given the freedom to create a work that would live there. Château La Coste will continue to evolve as new projects and installations are developed. Walk at your leisure through wooded hilltops and valleys, alongside olive groves and vine fields, discovering the many installations of contemporary art on your way.
Friday, March 15th
Saint Patrick's Day Party 

at « La Scene » in Aix Les Milles

Special event between « LA SCENE » and « BY THE WAY ».
Let's speak English and dance with Irish Folk music!
First Part : BY THE WAY friends (Geraldine, Aisling, Eric and Kalie FROM 7:30 PM)
Second Part : Erin Galad (Traditional Irish band FROM 8:30PM)
---
CHAGALL Exhibition at Hotel de Caumont

Saturday, March 9th at 3:30PM

---
BINGO – By The Way and

By The Way Venelles 


Saturday, March 2nd at 3PM
SALLE DE LA BOSQUE – CHEMIN DE LA BOSQUE
Thank you everybody for this great afternon!
UN GRAND MERCI A TOUS NOS ADHERENTS ET A NOS PARTENAIRES :
GULLI PARC
AIX LES MILLES
TREMPOLINE INDOOR –  SALTO ET URBAN JUMP
AIX LES MILLES
IN PARK – KARTING LASER STRUCTURE POUR ENFANTS
AIX LES MILLES
BOWLING DU BRAS D'OR
AIX CENTRE VILLE
BOUCHERIE ARNAUD – LA CROIX D'OR
BOUC BEL AIR
VITALSPA
BOUC BEL AIR
CORINNE GARCIA Réflexologue
FUVEAU
MULTI SERVICES RAPIDES
GARDANNE
COIFFEUR STUDIO AVENUE
GARDANNE
BOULANGERIE L'ATELIER
GARDANNE
PHARMACIE CENTRALE CARRFMARKET
GARDANNE
LEADER PRICE
GARDANNE
TORREFACTION ST ROCH
GARDANNE
FLORALES DU MIDI
GARDANNE
ATELIER POTERIE ROULTATERRE
GARDANNE
LIBRAIRIE AU VENT DES MOTS
GARDANNE
LA BOUTIQUE AUX CADEAUX
GARDANNE
RESTAURANT  AU FIL DU GOUT
GARDANNE
BOUCHERIE LES ATOUTS
GARDANNE
ROSYBER
GARDANNE
PHARMACIE DU LYCEE

 

CREDIT MUTUEL

GARDANNE

 

GARDANNE

MARION THIBAUD Kiné
MEYREUIL
PHARMACIE DES MOULIERES
MIMET
BIO C BON
PLAN DE CAMPAGNE
GOLFFY PARC
PLAN DE CAMPAGNE
LASER GAME
PLAN DE CAMPAGNE
PHARMACIE
PONT DE BERAUD
LE MAS DE LA DEVEZE
TAUTAVEL
CITRON VERT
VENELLES
COIFFEUR CEE JEE
VENELLES
MARCEL&BIO
VENELLES
CARREFOUR MARKET
VENELLES
CAVE AUX VINS LES TERROIRS
VENELLES
PHARMACIE LES OISEAUX
VENELLES
AU BONHEUR DES DAMES
VENELLES
URBAN KIDS
VENELLES
JARDINERIE RIERA
VENELLES
UTILE
VENELLES
PHARMACIE DU SOLEIL
PUYRICARD
---
SATURDAY, DECEMBER 15th
CHRISTMAS PARTY
---
SATURDAY, NOVEMBER 23rd
GAMES EVENING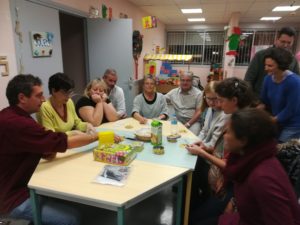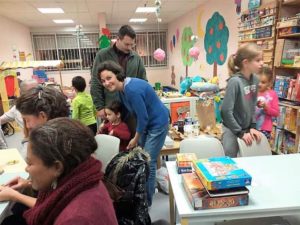 ---
THURSDAY, AUGUST 1st
KID TO KID CONNECTION
---
SATURDAY, JUNE 30th
BY THE WAY and BY THE WAY VENELLES « 
END OF THE YEAR PARTY

« 
Thank you everybody for this wonderful party!
All BTW members or almost all showed us what they've learnt during the year and the music with Geraldine and Aisling was great as usual!
Kids liked giant games and we all had a good time together!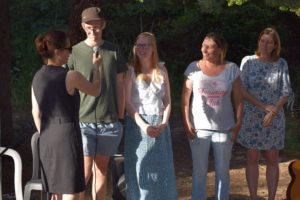 Thank you to every « teachers », « group leader » from this year : Aisling, Ava, Annette, Geraldine, Kylie, Kurt, Marion, Susan, we had a really great team!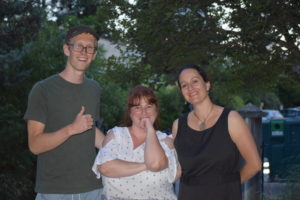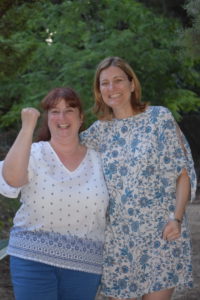 ---
Au programme, il y avait : musique, chansons, jeux surdimensionnés, sketchs, présentations des différentes classes et intervenants des Associations By The Way et By The Way Venelles.
---
FRIDAY MARCH 16TH
SAINT PATRICK'S PARTY
From 7pm, in Gardanne (Salle des fêtes de Fontvenelle)
IRISH music, IRISH songs, IRISH poetry,
IRISH TEACHERS and IRISH GOOD MOOD !!!
Each participant is asking to bring something to eat and to drink, thank you 😉
You can find a lot of Irish recipes on the web such as the following :
Thank you Geraldine for your beautiful songs, Aisling for your amazing tin-whistle music and Geraldine for your great presentation!!!
You can find it HERE
---
TUESDAY MARCH 6TH  
FROM 6 TO 8PM (more or less)
For his third « Cooking-in-English class », Trevor propose a voyage to the sea!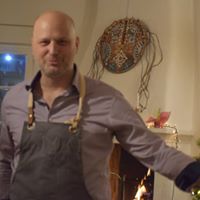 « Dressed in our aprons and seafaring shirts, we will join all-hands-on-deck to chop, slice, and mix nature's finest taste of the sea.  Vocabulary will be introduced and revised around all things from ships to seashells, and of course common cooking terms. »
---
BY THE WAY VENELLES : first BINGO for the whole family!
SATURDAY FEBRUARY 24TH  at 5PM
SALLE DE LA GRANDE TERRE A VENELLES
To have a review of numbers in English and have fun in the same time, for all the family !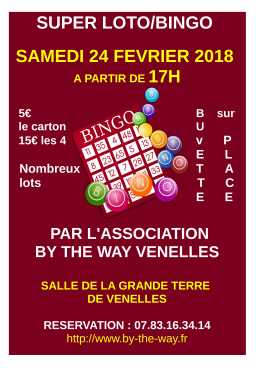 MERCI A TOUS pour votre large participation!
Nous allons pouvoir acheter du matériel supplémentaire pour l'association : tableaux blancs, marqueurs, photocopies supplémentaires, travaux manuels pour les enfants, petit mobilier, petit électroménager…
---
CHRISTMAS PARTY
IT WAS A WONDERFUL EVENING
FRIDAY DECEMBER 8TH
Children's songs,
Musicians : Geraldine Gervois and the Pop Rock anglophone group 'Lilies and the Weeds' (with Trevor Barrett).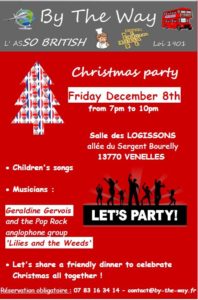 ---
GAMES EVENING
A new event to practise English : various games in order to have fun and speak English, of course! From beginner to advanced level, for adults and teenagers : darts, scrabble, card games, taboo, pictionnary, board games, strategy games… See whitch one takes your fancy!
---
HAPPY HALLOWEEN!
Halloween is in fact an Irish tradition, as it comes from before Christianity as far back as the celtic times 500BC. So let's have a review of its origins :
http://www.history.com/topics/halloween/history-of-halloween