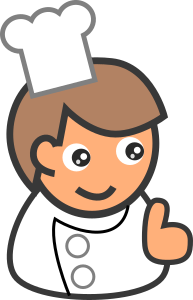 Cuisiner, si vous aimez cela, peut être un moyen fantastique de pratiquer l'anglais/le français tout en prenant du plaisir.
Seul, avec des amis, des collègues de travail ou en famille (les enfants à partir de 5 ans sont les bienvenus si cette activité les intéresse aussi), toutes les possibilités sont envisageables!
Découvrez le vocabulaire et les expressions spécifiques à ce domaine au cours de nos séances hebdomadaires. Ou participez à un de nos « ATELIER CUISINE » (atmosphère conviviale garantie) pour expérimenter, pratiquer ou réviser ce que vous aurez appris auparavant.
---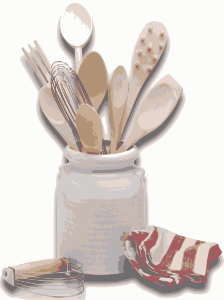 Cooking, if you like it, can be a fantastic way to practise your English/French and have fun.
Alone, with friends, collegues or family (children from 5 years old are welcomed if they're interested in cooking too), there is a wide range of possibilities !
You can learn the cooking vocabulary and terminoly used in this specific field during our weekly classes. Or, you can go to one of our « COOKING CLASSES » (in a relaxed and friendly atmosphere) to make, practise, or review what you have learnt before.
---
RECIPES FROM BY THE WAY STUDENTS
---
COOKING CLASSES : SO GOOD !!!
MARCH 14TH 2021 : ONLINE IRISH PORTER CAKE FOR ST PATRICK
What you need:
225g Cream Plain Flour
Pinch of Salt
1 teaspoon Baking Powder
1/2 to 1 teaspoon of Mixed Spice (for e.g. nutmeg, cinnamon, ginger, cloves)
55g Golden Caster Sugar
110g Butter
225g Sultanas
150ml Stout (for e.g. Guinness beer)
1 Egg, beaten
Method :
Preheat oven 180°C/350°F/Gas 4. Line a 20cm/8″ round cake tin with greaseproof paper.
Sieve the flour, salt, baking powder and mixed spice into a bowl and add the sugar.
Rub in the butter and add the fruit and mix.
Add the stout to the beaten egg and add to the mixture. Mix well.
Transfer to the prepared tin and bake for 30-40 minutes depending if you have a fan oven or not.
Note : If top of cake is browning too quickly, cover with a double layer of greaseproof paper until baked.

---
EACH YEAR, in every class we choose a « cooking week », one or two of our best recipes and realise them !!! It is great, we have fun and it is as delicious as efficient to learn English/French!
---
WEDNESDAY DECEMBER 20TH

and 

WEDNESDAY DECEMBER 27TH

Exceptional : 2 hours (more or less) in small group group at Trevor's house in order to prepare a meal and share it in a friendly atmosphere !!!